Installing the Termite Barrier (treated Zone)
Termites travel underground so the barrier is installed into the soil around the outside of the home. Where there are gardens/turf or stones against the house, we saturate all the soil from the ground level down to the building foundations with Termidor. In some cases we will need to replace some of the soil with a more suitable substrate.
Drilling into concrete paths maybe necessary to install a continuous treatment. We'll talk to you about our different options (See Photo)
By the end of the day we put all the landscaping back in place ensuring the finish product is neat, tidy, well protected and less attractive for termites.

Maintaining the treated zone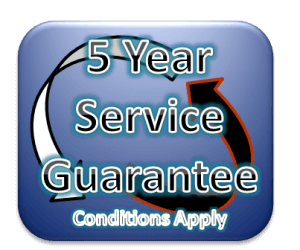 Termidor has a life expectany of 8 years in ideal conditions. Different soil types, climatic conditions and excessive exposure to sunlight or water may decrease the protection period.
It's important that measures are taken to minimise this wear and tear on the barrier.
Annual Termite Inspections
It is a condition of our warranty period and a recommendation of the Australian Standards 3660 that annual inspections of the home be carried out by a licensed Technician. This helps us to identify any Termite Activity on the property that may require treatment and any areas around the home where the barrier may have been disturbed or compromised.
Water
Make sure all downpipes are
adequately
 connected to stormwater. It's important that excessive water isn't released into the treated zone every time it rains.
Landscaping
Bridging or breaching of the barrier can occur when the treated soil is disturbed or covered with untreated substrate. This means Termites can find a bridge of untreated soil to gain access to the building. Soil areas that are disturbed or changed may need to be retreated.
Gardens/Trees close to the house
Avoid planting trees or gardens close to the house. Gardens need moisture and so do termites. Tree and palm roots can grow though the barrier creating tunnels for termites to travel. Tree roots can also upset building foundations, plumbing, brick work and should not be planted close to the house.
Termite Tips – Think Like a Termite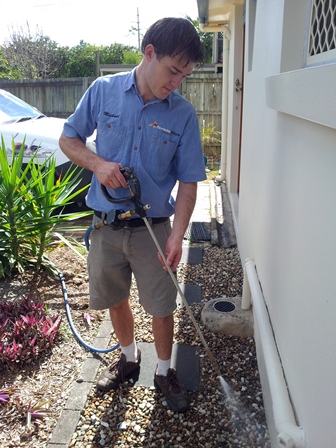 "mmmMmm Food! Yummy!" Keep all gardens free from timber, bark and wood chip, especially near your home.   
"We just Love Moisture!" Check all plumbing to ensure that water is not released beside the house.
"NOT our HOME!!!" Remove any dead tree stumps. Have them stump ground and treated if necessary. That's where the Termites live.
" The Termite Guys? We're outta here!" Protect your home with Termidor.. .their best reason to leave!