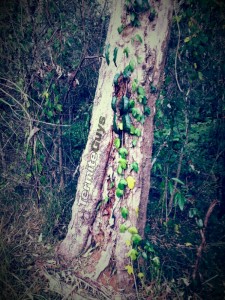 Found a home among the Gum Trees? Many home owners throughout Forest Lake and surrounding suburbs have had to deal with the misfortune of finding termites in their home. Termite damage can be very expensive to replace and in some cases, people have had to entirely rebuild their homes. The fact is that living close to bushland and near large gumtrees significantly increases your risk of termite attack and it is important that home owners take the necessary precautions to avoid a disaster. General home insurance won't cover you in the event of an attack
Amongst Pest controllers, Forest Lake is famous due to the rogue pest controller that was caught spraying under house slabs for Termites… using only water! 5,000+ houses may have been falsely protected by one of the major firms contracted to install termite protection throughout many Forest Lake homes built within the Delfin Master Planned community. Although it was not a viable solution to carry out soil samples at every property, the termite calls we received from Forest Lake when these properties should have been protected makes me wonder how many homes must have been built without protection.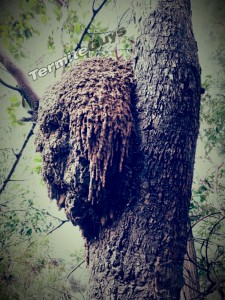 Most of the chemical treatments originally used to protect homes throughout Forest Lake are unlikely to be effective as these chemicals have surpassed product life expectancies. We provide a no charge service to check if your home is protected. While our technician is at your home, generally for about 30 minutes, he can give you some general tips for termite prevention. All of our technicians are licensed to inspect and reinstall these termite barriers if required and we can provide you with a quote to reinstall the termite treatment if necessary.
Take a walk through Forest Lake, look up and you will see why termite protection is so important. Termite nests up in the trees on every block are a cause for concern but the biggest issue is the presence of huge gum trees dead and alive. These giants are notorious for harbouring our most aggressive species of subterranean termite in Brisbane, coptotermes acinaciformis. This species of termite hollows out the trunk of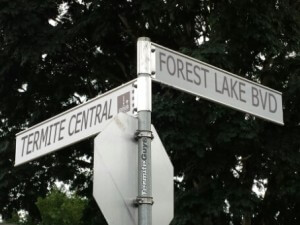 the tree where they construct well organised colonies throughout the tree with millions of hungry termites which can travel more than 100 metres in search of a food source. It is not uncommon for one nest to attack several houses in the one street. They will even travel under roads!
Been awhile since your last Termite Inspection? Why not have our technician carry out a complete home inspection?
Save $20 by filling out our easy online enquiry form. We have the latest equipment for detecting termites inside the home. As our name implies, we are specifically Termite Guys and are fully equipped to detect, eradicate and prevent Termite attack.
Talk to a technician direct on Ph: 3393 3515 or Mob: 0447 268 257